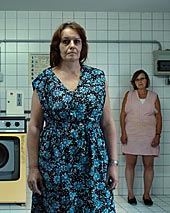 In The Basement
(Im Keller)
Essayfilm, Austria 2014, 85 Min.
VENICE 2014 / Out of Competition (Fuori Concorso)
World Sales: Coproduction Office
Synopsis
The film is about people and basements and what people do in their basements in their free time. The film is about obsessions. The film is about brass-band music and opera arias, about expensive furniture and cheap male jokes, about sexuality and shooting, fitness and fascism, whips and dolls. After his ambitious Paradise Trilogy, Ulrich Seidl returns to the documentary form with "In the Basement." A film essay that is both funny and sad, it uses the director's characteristic film tableaux to delve into the underground of the Austrian soul.
Credits
Idea and Conzept
Ulrich Seidl, Veronika Franz
Additional Camera
Hans Selikovsky
Second additional Camera
Wolfgang Thaler
Production manager
Louis Oellerer, Max Linder
Line producer
Konstantin Seitz
Production
Ulrich Seidl Film Produktion
With support from
Österreichisches Filminstitut, Filmfonds Wien, Land Niederösterreich
Co-produced by
ORF (Film/ Fernseh-Abkommen), coop99 filmproduction, WRD
In collaboration with
Arte