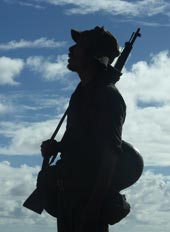 Synopsis
Cast / Credits
Stills
Fires On The Plain
(Nobi)
Japan 2014, 98 min.
VENICE 2014 / Competition
World Sales: Coproduction Office
Synopsis
In the final stages of WWII, the occupying Japanese army in the Philippines is rapidly losing ground, facing local resistance combined with an American offensive. The final few Japanese survivors, having almost been wiped out, have crossed the threshold into a realm where there are no friends, no enemies and no God.
Cast
Tamura's wife
Yuko Nakamura
Credits
Director and Scriptwriter
Shinya Tsukamoto
Cinematographers
Shinya Tsukamoto, Satoshi Hayashi
Original Story
Shohei Ooka
Sound Editor
Masaya Kitada
Assistant Director
Satoshi Hayashi
SFX sculpting
Chiharu Rikuta, Natsuko Kado
Production Manager
Kaori Saito, Ayako Yamanaka
Special Effect
Satoru Narumi, Taku Nakano
Production Company
Kaijyu Theater